Original author: Charlie Morris
Original compilation: Jack(0x137) , BlockBeats
The new Cosmos white paper has just been released, here is what I read Some thoughts on:
Page 1
p>
This page of white paper reads: "The vision of the Cosmos network has been realized". This is a bold but true statement. The Cosmos V1 white paper focused on building out the Cosmos Hub and communication model via IBC, which is now implemented.
Page 2

Hub needs a new role. Cosmos developer Zaki said in his speech at the Cosmoverse Conference last night that today's ATOM has almost become a Meme currency in the Cosmos ecosystem, and ATOM can actually do more. Its new role is to "develop elastic cross-chain economy".
What does this mean?
The first is to become an "infrastructure service provider". Just like Ethereum acts as a platform rather than a service provider, in Cosmos chains do not need to touch The Hub to use the Cosmos SDK. Therefore, Hub also passively provides relevant added value...
Secondly, layering Architecture, including:
1. Social coordination technology, default home page and coordination layer of Cosmos SDK, Tendermint, etc.
2. Cross-chain security, consumer chain protected by Hub (Consumer Chains)
3. Liquid staking, used in DeFi
4. Interchain Scheduler, a secure block space market
5. Interchain Allocator, "a platform for the client to develop and adjust the ATOM-based market."
The cross-chain coordinator and cross-chain allocator are based on specific Hubs.
p>
Page 4

< p>
The content on this page is cool. The Hub will generate income from cross-chain economic activity by creating a block space market and charging matching fees. Today, the Hub basically has no income, and the cross-chain coordinator changes this. And this revenue will be used to "add promising new projects to the Cosmos Hub's assets through the cross-chain allocator."
Of course, there are many problems here. Like who decides which items to add? Are these grants or investments coming from the Center?
Page 5

ETH is also the preferred collateral in Ethereum DeFi.
In addition, this page also mentions Interchain Security. The Hub will continue to minimize the security surface, so it is unlikely to be a platform for deploying applications, but to provide this security for consumer chains. Liquidity staking should be the first users of cross-chain security.
Page 6

The purpose of cross-chain security is mentioned here. It can be used for:
1.Rollup settlement
2.IBC routing, IBC relay contract market
3.Multiverse, my interpretation is the consumer chain
4. Chain name service, ENS on Cosmos
Page 7

This is the first time cross-chain is mentioned account. Assets pledged by liquidity can be exported through IBC, continue to accumulate rewards and be used in other agreements.
Page 8

This page mentions the ATOM issuance and the new monetary policy, and implements it through two phases: transition period and stabilization Expect.
The transition period lasts for 36 months, with a temporary increase in circulation for the first 9 months for the new The Cosmos Hub treasury provides initial funding. The circulation then starts to decrease, creating a new treasury for the Hub using Cumulative inflation. This is sure to be a hotly debated topic.
At the beginning of the transition phase, 10 million ATOMs will be issued per month, approximately 40% of the annualized inflation rate. But it will decrease every month, and finally in the stable period, it will be 300,000 ATOMs per month, which is about 1% annualized inflation rate. When "the pledge rate is lower than a certain value", ATOM will restore the original monetary policy to ensure safety.
Page 10

The comparison chart of old and new circulation shows that the new monetary policy is better than the old one. But while the high starting point isn't an issue, it's still likely to cause debate in the community.
Page 11< br>
There is a cost issue mentioned here. Cross-chain security can bring more fee benefits to ATOM stakers. Chains secured by the Hub will have a global fee module and an ATOM floor fee. Fees will be charged in other Tokens that Hub may convert to other Target Tokens, ATOMs or stablecoins before distribution. It's unclear if this is done automatically or manually, though.
Page 12

The two economic engines of Cosmos are explained in detail here: cross-chain coordinator and cross-chain allocator.
The cross-chain coordinator will "bring the MEV market on-chain, minimizing trust , improve service quality, and achieve direct block space supervision through the chain itself"
This is achieved through The following 4 steps are implemented:
1. The consumer chain provides part of the block space
2. The coordinator issues NFT representing future block reservation
3. Reserved NFT can be traded on the secondary market
4. When the block is executed, the NFT revenue is distributed between the coordinator and the partner chain
In this way, "By purchasing synchronous regions of block spaces on different chains, users can lock in arbitrage opportunities or arrange cross-chain settlement transactions".
Schematic diagram of the coordinator
The cross-chain allocator is to help the new Cosmos project achieve user growth and flow and "long-term ecosystem alignment".
p>
Page 17

< p>
This page answers some of my earlier questions about allocator decision making. The Hub will "fund and incentivize DAOs to perform the tasks of the allocator", and the allocator will provide 2 tools: a covenant (Covenant) for establishing multilateral agreements and a rebalancer (Rebalancer) that automatically manages a portfolio of assets with public liquidity. ).
The functions of the covenant are:
1. A protocol sets parameters and deposit funds into the covenant
2. Other agreements may update parameters in the new covenant until agreement is reached
< p>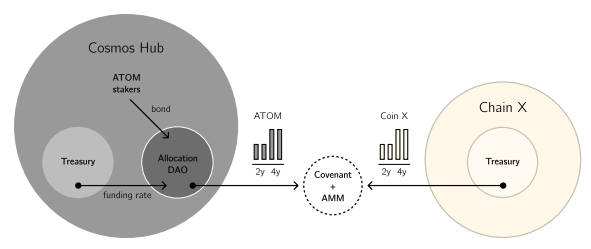 The functions of the rebalancer are:
1. "Liquid Assets Third Party Capital Allocation Strategy Execution Tool"
2. Regular calculation of assets to sell or acquire
These functions seem to be useful, but I think there will be a governance dilemma in the future, because there is always An attempt will be made to determine the initial allocation.
Page 19

Here is a specific example of the protocol using the allocator:
1. Between protocols Mutual shareholding
2. Provide auction reserve price guarantee
3. AMM pool with liquid mortgage ATOM
4. Rebalance agreement reserve
5. Participate in the governance of other chains that own Token storage
I am indeed Value is seen in cross-chain allocators. Cosmos has always airdropped new chain tokens to ATOM stakers in the past few years, and the allocator seems to be formalizing this cross-chain spirit and becoming a paradigm of economic cooperation. In the words of the white paper: "The cross-chain coordinator benefits from the increased The positive feedback loop between interchain liquidity and cross-chain allocators deploying capital to increase interchain liquidity gives Hub a stronger advantage over other liquidity providers."

< /p>
Page 20

Broader usage scenarios for allocators:
1. Multiple allocator DAOs to improve diversification
2. Flow Sex as a service (I think this is what Osmosis is also trying to do)
3. Low-collateralization finance, "If the loan agreement defaults, they can mint the Token of the loan agreement to make up for the loss." This is wild because lenders can use this to inflate the protocol's tokens.
4. To save liquidity, "the covenant can be used to guide capital into the trading network, improve liquidity conditions and reduce bankruptcy caused by stress factors." I personally don't quite understand this.
5. An allocator outside of the Hub is still useful as it helps the project integrate with the Hub in the future.
Page 21

The white paper begins to enter the governance field here. To enable the next phase of cross-chain cooperation, Cosmos will need "a shared organizational language and a foundation for decentralized planning, resource allocation, and accountability." I think this was heavily influenced by the Cosmos project Informal Systems and the founder Buchman! (Side note, if you're interested in organizational governance, I highly recommend reading it here, it's very groundbreaking)
The white paper mentions: "The governance stack will provide a common specification for DAOs to self-describe their organizational structure and their relationship with each other".
p>
I like this idea of a "shared vocabulary", although I find it challenging to implement in a decentralized ecosystem. Forcing a company's employees to speak the same language is one thing, but getting a community to adopt shared (non-organic) terminology is much harder.
Page 23

The concept of Cosmos Assembly (The Cosmos Assembly) is mentioned here, which is an organization representing the interests of the Hub community. It is up to ATOM holders to define the general charter, DAOs can become councils and are added to the charter providing resources and authority for specific topics, and Cosmos assemblies are made up of council representatives.
p>
Page 24

< p>
Cosmos Assemblies set priorities and budgets for the community, representing the interests of ATOM holders. I have previously advocated for the Hub to have a seat on the Interchain board, but a Cosmos assembly would make more sense.
Page 25

Conclusion - Continued focus on the positive flywheel effect cross-chain allocators and coordinators will create.
p>
Finally, here is the full white paper a>, I also recommend reading Cosmos co-founder Ethan Buchman's recent article on phases of Cosmos.
< blockquote>
Original link